The Club publishes an award-winning monthly newsletter for members and subscribers, edited by Ilona Merritt. She gives first
preference to articles written by members, and would like to hear from you. What do you want to see in the newsletter.
Can you contribute something? Would SIG group members consider writing an article about their activities?
The articles do not need to be lengthy.
The monthly meeting date is the deadline for the next issue.
Email your articles to Ilona Merritt at: editor@scccomputerclub.org
Indexed back issues of our award winning Journal — from Oct. 2003 through Dec. 2013,
including how to use instructions — are available on CDs in the Computer Lab for a nominal fee of $5.00.
Lab / Resource Center
The SCC Computer Club maintains a fully equipped Computer Lab and Resource Center in the Atrium Building on the North SCC Campus. The lab has 14 state of the art computer systems equipped with the latest hardware and software. It is open every afternoon, except Sunday, from 12:30 to 5:00 pm. It has a full staff of volunteer computer monitors in yellow shirts to assist you with computer problems on a hands-on, one on one basis. Free Wi-Fi connections are available.
The Computer Lab is where you go to join the club or to sign-up for classes. The club has compiled a list of computer repair options in the Sun City area which is available in the lab. Any Sun City Center Community Association Member or any Kings Point resident may use the Computer Lab for checking email, scanning and emailing documents, research, airline reservations or check-in, to get on the Internet, play games or to ask computer questions about hardware or software. Any club member can also ask the monitors to help them with specific computer problems on their own computer systems. You may also make copies or print documents for a fee.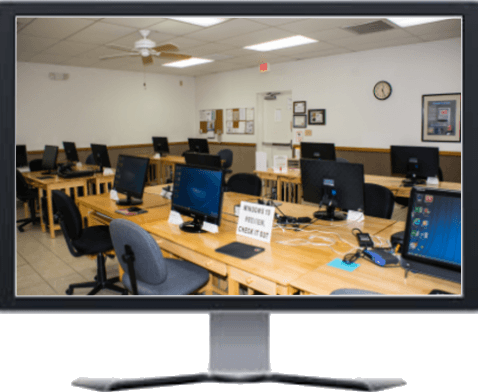 The Club began in 1983, when Len Point had a problem with his computer and could not find ready answers. He gathered together the few local "experts" at that time, as sort of a mutual aid society. Club members took turns offering their homes as sites for the monthly meetings.
As the PC became more popular, the Club grew and moved to ever-larger quarters over the years. In 1988, it became affiliated with the Sun City Center Community Association. Later it incorporated and was granted 501(c)(3), by the IRS as a tax-exempt educational organization.
In 1993, as the result of solid planning and a fortuitous grant, a permanent Computer Learning Center was established in the Kings Point Clubhouse. Subsequently, it moved to its present location in the SCC Atrium Building. Annually, the Club trains hundreds of local residents in various aspects of Personal Computing. Today, the Club holds a monthly program meeting in Community Hall at 7:00 PM on the Second Wednesday of each month.
Today, the Club membership stands at about 1,000 families from both Sun City Center and Kings Point. In addition to being one of the largest clubs in Sun City Center, it is believed to be one of the largest PC User Groups in Florida. As the PC continues to gain an ever-growing cadre of users, it is expected that The Computer Club will continue to expand, as it fulfills its mission of "Education, Information and Service to the computer community of Sun City Center."